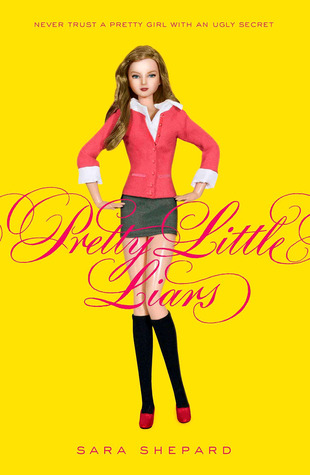 I've heard about the TV show, Pretty Little Liars, and while I've never seen an episode, I have humored the thought that in another life (younger, more time, if I knew what channel it was on) it might be a show that I'd watch. I had no idea that it was based on a book series, though, until I found it at my local Friends of the Library book sale for a quarter.  What follows are my honest thoughts about this book. (Don't judge.)
I wasn't particularly impressed by the writing. I was quite worried to discover that I was reading about 7th graders, then quite relieved to find the characters are only that young for the first chapter. These girls are much naughtier than the adult women in the books I normally read. (Not that I wasn't this age myself and that I don't realize what goes on – I claim the 5th on ever misbehaving myself in any way – but I was slightly shocked that mothers let their daughters read this, and could not decide at what age I'd expose my daughter, if I had one, to this book.) I didn't connect with any of the characters, and was almost through the book by the time I was able to keep them straight.
BUT – I'm hooked. I have to know what happens. Who is A? What does she have in store for these girls? I couldn't sleep after finishing this book because I was so busy listing suspects and scenarios to identify and/or explain A. I'll admit it – I felt myself blushing when my husband looked at the cover of this book, then at me with a questioning look – but I'd be lying if I didn't say that this series is my newest guilty pleasure. 4.5 stars.